Metal roofing is becoming more popular these days due to its range of benefits, which is why many homeowners and business owners wan to know the average cost of installation. And while they are typically more expensive to install than the basic asphalt shingle roof, you can usually expect a metal version to last much longer. This is why they're often considered to be a greater investment in the long run.
Montana homeowners can expect the cost per square foot of these roofs to range from anywhere between $5 to $14, all depending on the type of metal roofing material. With a steel metal roof installation often being the priciest, there are other more affordable versions that you can choose from.
However, several factors contribute the cost of metal roofing in Montana. Let's delve into the roofing costs, and discuss why metal roofing is ideal for your house or your business in MT.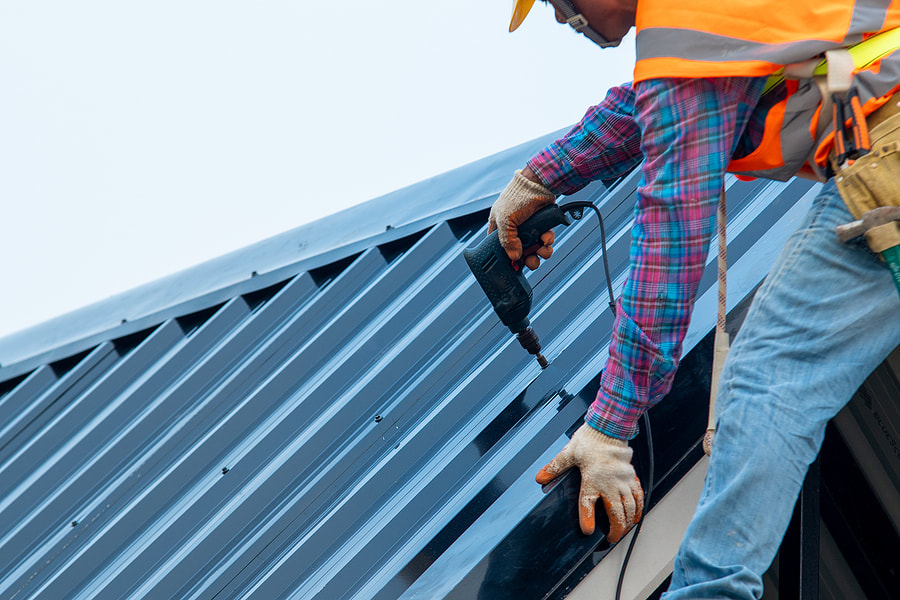 What is Metal Roofing?
As the name suggests, metal roofing is made up of different kinds of metals. They can vary in form, ranging from corrugated metals to slate and tile roofs.
Lasting anywhere from 50 to 80 years, depending on the type of metals, it's usually a one-time buy that doesn't need to be replaced.
Different Types of Metal Roof
Curious about all the options you have for your metal roof? Here are the different types of metal roofing available in MT:
Aluminum Roofing
Aluminum shingles are quite inexpensive when it comes to metal roofing. They are often advised for local homeowners who live by the ocean, as they're very resistant to saltwater damage and corrosion. No need to worry about that in MT!
Copper Roofing
These roofs are very durable and can last up to 50 years or more with regular maintenance and some repair. Highly resistant to fire, mildew, and hail, it's also a lightweight material. This is a key benefit for contractors as they are not as difficult to install.
Corrugated Metal Roofing
This roof type is very durable, thanks to its grooves and ridges that help water to escape. This makes them not susceptible to corrosion, which adds to their durability.
Metal Tile Roofing
Metal tile roofing can be made from a variety of metals, including copper, zinc, steel, and aluminum. These tiles are stamped with different textures or appearances and are secured with concealed fasteners.
Metal Slate Roofing
Metal slate roofing can imitate the aesthetic of regular slates with less maintenance. All it needs is a paint finish, and it's good to go.
Standing Seam Metal Roofing
Standing seam metal roofing doesn't have fasteners visible on the surface. This means the roof will not be exposed to damaging UV, moisture, wind, or other natural elements that can cause the fasteners to wear out.
Steel Roofing
Steel shingles are fire and corrosion-resistant. These roofing materials are also strong enough to withstand winds of up to 120mph.
Tin Roofing
In regard to metal roofing, a tin roof is actually made from rolled steel with an added layer of tin.
Zinc Metal Roof
This type of new roof is self-healing, meaning if it becomes damaged or scratched, it can recover over time.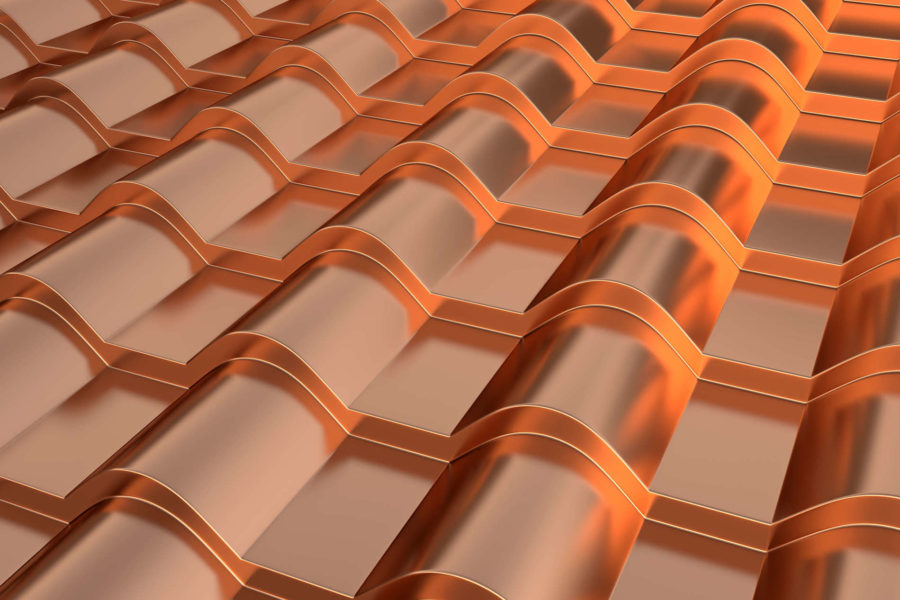 Metal Roof Cost By Type
Remember that the term metal roof is not a one-size-fits-all box when it comes to the average cost. It covers a broad range of roofing materials, and many differ in price. If you are looking for cheaper pricing in MT, corrugated steel roofing usually costs slightly less. However, high-end metals like copper can increase the cost of metal roofs.
Below you'll find the most common types of metal roofing along with the average prices of each:
Metal Shingle Roof Cost
Installation Costs:

$5,000 to $15,000

Cost Per sq ft:

$5.25 to $12.50

Cost Per sq ft (100 per square foot):

$525 to $1,250
Copper Roof Cost
Installation Costs:

$23,000 to $48,000

Cost Per sq ft:

$14 to $22

Cost Per sq ft (100 per square foot):

$1,400 to $2,200
Aluminum Shingles Roof Cost
Installation Costs:

$15,500 to $28,000

Cost Per sq ft:

$3.15

Cost Per sq ft (100 per square foot):

$315
Corrugated Steel Roof Cost
Installation Costs: 

$10,500 to $19,500

Cost Per sq ft:

$1.80

Cost Per sq ft (100 per square foot):

$180
Steel Shingles Roof Cost
Installation Costs:

$15,000 to $25,000

Cost Per sq ft:

$3.35

Cost Per sq ft (100 per square foot):

$335
Standing Seam Metal Roof Cost
Installation Costs:

$23,000 to $30,000

Cost Per sq ft:

$3.50 to $6.80

Cost Per sq ft (100 per square foot):

$350 to $680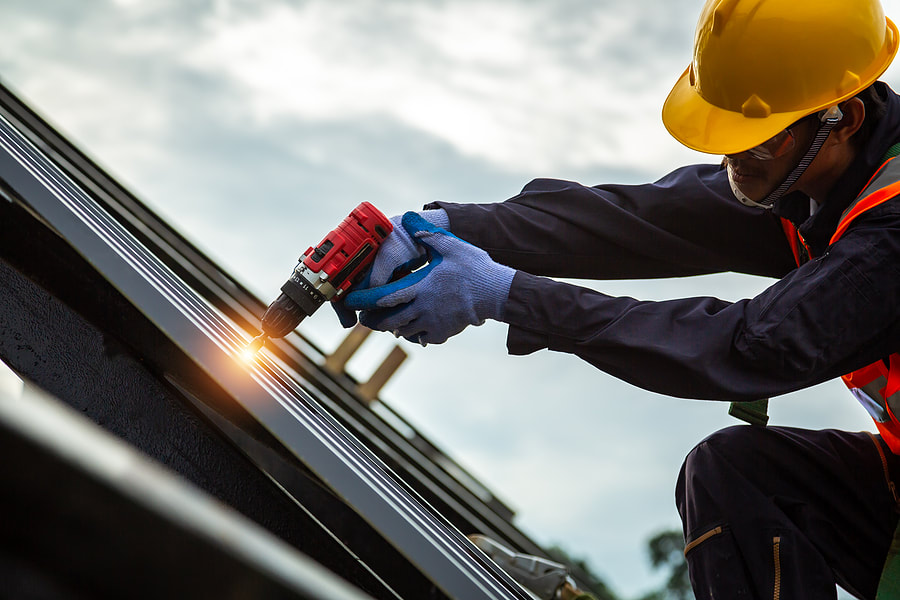 Metal Roofing Maintenance
Your metal roofing project in MT can receive some extra TLC to enhance its lifespan with these maintenance tips. Of course, different metal shingles may vary based on the type of metal you go for, and the average costs may increase. But, if you want your new metal roof to withstand the test of time, it's worth investing in these services, too.
Metal Roof Underlayment Costs
Once you've had your new roof installed and your existing roof replaced in MT, you'll need to think about roofing underlayment (the extra protection for your roof). This is because the installation costs may be between $4 to $5 per square foot, so you will need to consider these factors in the installation estimate your local roofing contractors gave you.
Roof Cleaning
You can reduce the price of some maintenance jobs by doing it yourself. However, as a metal roofing contractor in MT, having a professional perform these tasks on your roof and other architectural features to high quality is advised.
If you do want to save money so you can pay out more for your roofing project, use soap and water to wash, or a pressure washer if you are averse to climbing on your roof. Be sure to avoid using wire brushes or other abrasive tools, as they can scratch your roof. You don't want to ruin the quality or have to pay more for repairs!
Roof Coating
When your new metal roof is being constructed in the factory in MT, whether it be a standing seam roof or any other type of metal roofing, the individual shingles will be coated with either galvanized zinc or a mixture of that and aluminum. (Galvalume of zincalume.)
Galvalume tends to be the longer-lasting of the two, but all coatings can be opted for in different levels of thickness. Naturally, a thicker coating will provide your house and metal roof with the most protection, but obviously, it will be higher in price.
But whichever thickness or coating you choose for your house and metal roof, Mother Earth, and natural elements will distress the materials over long periods. So, inevitably, your new roof will require a further protective coat.
Your roofing contractor will explain all of this to you and usually perform these services for you during regular maintenance checks. If it's just a routine maintenance check, they may even suggest a simple polymer recoating to ensure the quality of your metal roof doesn't falter.
The Energy-Efficient Benefit
You may not know this, but 600 million tonnes of construction and demolition debris ended up in landfills in the US in 2018.
To combat this, many contractors and roof customers have opted for metal roofing, like standing seam roofing, to reduce the amount of waste. This is because they are made from at least 30 to 60% of recycled materials (and 100% recyclable materials). When your contractor installs your metal roof, they often do it over an existing one. This reduces the prices of removing them, decreasing the overall prices of your metal roof cost and lowering the environmental impact of removing and disposing of an old roof.
Metal roofing also makes your house more energy-efficient, saving you money on your energy bills. So, the metal roof cost may be higher in price than a traditional material, but again, the investment advantages of having one installed definitely outweigh the negatives.
Things That May Influence Metal Roof Cost in Montana
When a metal roofing contractor comes to review your home or business in MT to provide you with an estimate, there'll be a number of factors they consider. This can either increase or decrease your metal roof cost.
The cost of metal roof projects varies depending on the size and height of your house and shingle type, and the materials you choose. When calling on metal roof services, prices may rise when:
Your home or business has multiple stories.
You have a complex roof, for example, multiple roof areas or gable roofs.
The quality of the metal.
You choose a standing seam metal roof instead of a sheet or shingle metal roof.
You need your roof underlayment replaced.
Existing roofs need to be removed before installing your new metal roofing.
The price of your metal roof cost in Montana may decrease if:
Your home is single-story and only has one roof.
You avoid a standing seam metal roof and choose cheaper metal roofing, like sheets or shingles.
Your new roof can be installed without removing your current one.
You have standard quality metal installed like galvanized steel.
Metal Roof Cost Services
The labor metal roof cost could cost you anywhere between $2.30 and $5.80 per square foot. However, while it may be tempting for other Montana residents to hire less expensive services for installing their metal roofing, you don't want to settle for anything less than the best for such an important project. It's such a demanding job that requires the utmost expertise, and sometimes a roof may need to be removed before the project can even begin, meaning more time and transportation costs.
Contact Us
If you're considering installing metal roofing and need an experienced contractor to take on your project, look no further. We'll provide you with an estimate and free quotes to begin your metal roofing install project ASAP. You'll start receiving calls about your new project in no time!
Connect